Pro Audio Systems delivers future-proof infrastructure upgrade to Opera North's multi-use Howard Assembly Room…
Opera North is an English opera company that was established in 1977 to deliver high-quality opera to the northern regions of the country. Based in Leeds, the company stages major productions at the city's Grand Theatre, as well as in principal cities across the North. Opera North also curates the 300-capacity Howard Assembly Room, next door to Leeds Grand Theatre, in which it presents classical concerts, gigs, film screenings, talks, workshops and installations.
Recently refurbished as part of an £18m 'Music Works' development of the Opera North estate, the Assembly Room, originally built in 1879 as a respectable alternative to Leeds' music halls, has returned with improved facilities (including the new attached Kino restaurant) and an expanded programme. Bradford-based professional audio, lighting and AV supplier Pro Audio Systems (PAS) was instrumental in the provision for many of the improvements installed during its temporary closure.
Over the years PAS has supplied and installed a variety of in-house kit for Opera North including a Meyer Sound front of house sound system, LG video screens, and microphones by Sennheiser and DPA, as well as being the company's go-to for equipment hire for its many external events. Jamie Saye, Howard Assembly Room's Technical Manager was confident that PAS could meet the needs of the venue's latest infrastructure upgrade:
"We've built up a close relationship with PAS over the years in terms of both hardware and infrastructure, and consulted with them over all manner of projects. From everything needed for challenging festival installs, to supplying us with the kit and expertise to support our first livestreams and recordings during lockdown, they've been unfailingly patient and helpful. The peace of mind they provide has been fundamental to enabling us to grow our technical offering and be as future proof as possible. When we were looking to install a new show relay system and upgrade our audio networking provision in the Assembly Room, PAS was naturally our first port of call."

Jamie and his team wanted to create a cutting-edge, future-proof technical environment, which would allow the Assembly Room to benefit from the flexibility afforded by being a fully digital space. In addition to an integrated show relay system, the team wished to embed the capacity to enable audio and video livestreaming, as well as assisted hearing, consistent with the expectations of a multi-use facility like the Assembly Room.

As part of creating the technical environment which Jamie and the team envisioned, it was important that the backbone infrastructure of the venue could facilitate the level of information that would be sent to different areas. The team wanted to have the ability to send lighting, audio and video information digitally, sometimes from multiple points within the venue. To ensure 'the data pipe' was big enough for everything, PAS worked with Opera North to install a new fibre infrastructure. 96 fibre runs were installed (each with the capacity to transmit up to 40/100G of data), future-proofing the venue for years.

Following the installation of the fibre network by the PAS team, Opera North added a DiGiCo 225 Dante enabled console, 2 x Netgear AVline switches, Q-Sys Core 110f processor, and DiGiCo DQ 48in/24out rack to their in-house equipment. The new show relay system was based on Cloud loudspeakers and amplifiers, with a mixture of surface mount and ceiling speakers installed in dressing rooms and backstage areas. An independent audio system would cater for the Kino restaurant.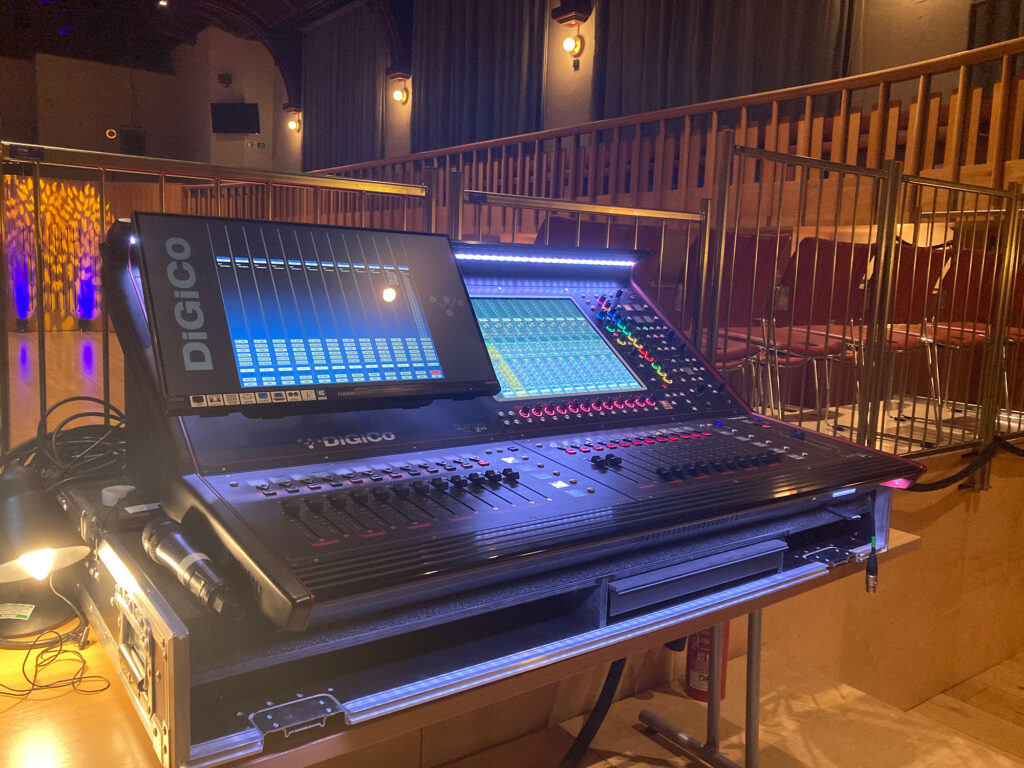 Jamie explains:
"The project was a significant one with quite a few 'moving parts'. From a digital infrastructure point of view, I was very keen to get a Dante network up and running in the space, as I knew about the flexibility and redundancy it would bring to our audio system, as well as the opportunity for an entirely digital end-to-end workflow. With our Quantum 225 at FOH, the two AVLine switches providing primary and secondary networks, and the Q-Sys Core providing system processing, the only time a signal is in the analogue domain is when it enters the mic and leaves the speaker.
"The Core allowed us to build in User Control Interfaces (UCI) which broadcast through our internal wireless network, so for example, our front of house team can play messages and adjust the level of the show relay system using their phones and tablets without affecting anything we're doing through the main PA system."
The existing console at the venue had been deemed unfit for purpose some time ago, with the result that Jamie and his team found themselves regularly hiring a replacement from PAS to meet the technical specifications of many visiting artists. A look back at the records showed DiGiCo as the most requested brand, leading to the conclusion that the Quantum 225 was, as Jamie puts it:
"…a no-brainer. It has exactly the right credentials at a really attractive price point, with 64-channel Dante functionality at 96Hz via the DMI card - and it sounds absolutely fantastic."
As well as the new setup in the Assembly Room, PAS supplied and installed a new background audio system for the Kino restaurant, which comprised loudspeakers, amplifiers and mixing console by Cloud, described by Jamie Saye as "a perfect fit".
Reflecting on the success of the project, Jamie stresses the importance of Opera North's relationship with PAS:
"The whole effort was underscored by working closely together. In some instances, we knew exactly what we wanted - I was dead set on the Quantum 225 - but in others it was a case of PAS suggesting the best way to go. The Q-Sys Core was a good example of that. I've never felt that PAS is trying to push a particular brand onto us for whatever reason. It's always been a case of 'here's what we want to achieve as a venue' and PAS returning with 'here's something that'll do that best'. That kind of honesty and trust is so valuable."
While the Howard Assembly Room retains every captivating and inspiring visual aspect of its nineteenth century character, Jamie Saye and his team are now satisfied that thanks to their collaboration with PAS, its twenty-first century technologies will guarantee the venue's future as a flexible and versatile multi-purpose space for many years to come.