Following close consultation, PAS supplies and installs a wide range of equipment to improve studio recording and performance-space technology at Bradford school…
Oastlers School in Bradford is a specialist setting that provides support for children and young people who have social, emotional and mental health difficulties. The School takes an empathic approach and offers a number of therapeutic strategies that sit alongside its high quality teaching. Music and music technology play an important role in Oastlers' curriculum, and are recognised as being vitally important in adding value to personal and social development, helping to to develop increased self-esteem, creativity and confidence.
During a recent evaluation of its facilities, the School decided to overhaul its music room and an adjacent small hall to create a recording/rehearsal facility and a dedicated performance space.
A key aim was to give learners the opportunity to gain real-world industry experience of working in a professional studio, including broadcasting for an internal radio station and participating in music recording and production. Also on the agenda was an aim to enhance productions and performances staged by students, including those which form part of the coursework for performing arts lessons, by significantly improving lighting provision.
Oastlers consulted with Bradford-based audio, video and lighting specialists Pro Audio Systems (PAS) about the best way forward.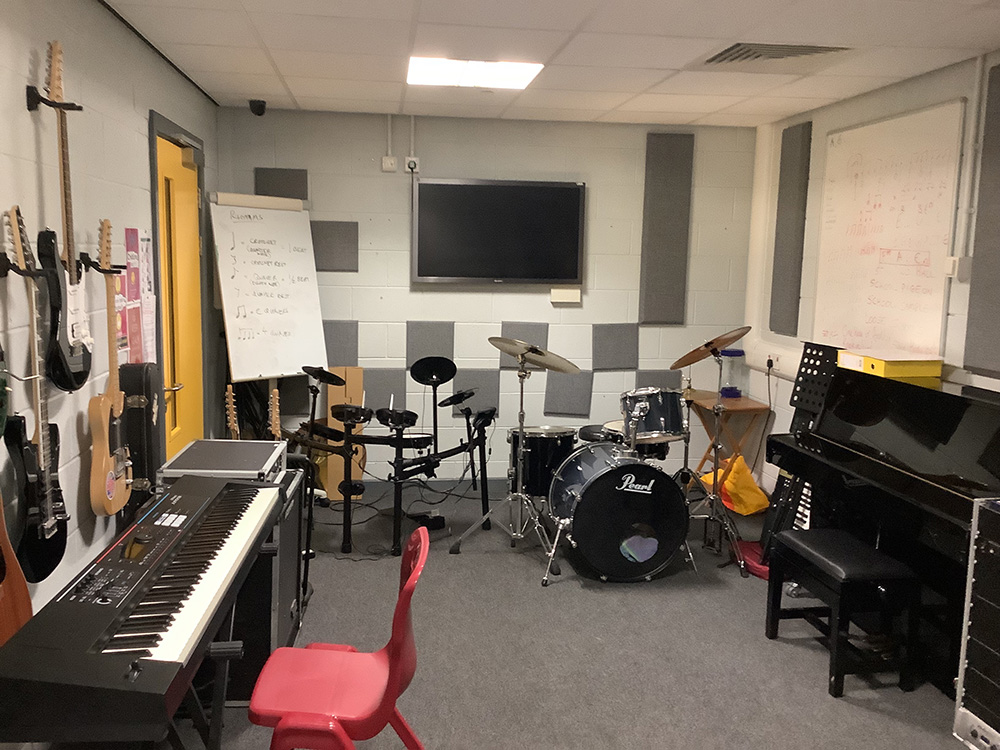 The School's existing equipment comprised a small rack with a basic mixer for a few microphones and a pair of PA speakers in the music room, as well as four lights run from a rudimentary fader system in the small hall. Chris Beardwell of PAS describes the brief:
"We were asked to supply the necessary kit to allow for full multi-track recording within both the recording studio and small hall, as well as updating the lighting rig in order to give performances access to more dynamic lighting. They also wanted to change the orientation of the performance space - something their existing lights were not set up for."
Technician Ben Fairbairn at Oastlers supplied PAS with an outline of products he felt appropriate for the School's ambitions, and invited them to make further recommendations and offer advice about best-fit solutions. Chris, along with Callum Hall, PAS Audio Sales, first addressed the audio requirements:
"To begin with, Callum and I worked together to provide Oastlers with a comprehensive microphone package that would tick all the boxes with regard to multi-track recording, performances and podcasting. We provided a variety of vocal and instrument microphones, including radio mics, by leading manufacturers such as Shure and Audio-Technica.
"When it came to a mixing console, Ben had originally suggested an Allen & Heath QU-24 but after some discussion we supplied an SQ-6 digital console, which serves the same function as the model he'd wanted but saves on desk space while giving flexibility with its assignable fader pages, I/O options, USB multi-track recording etc."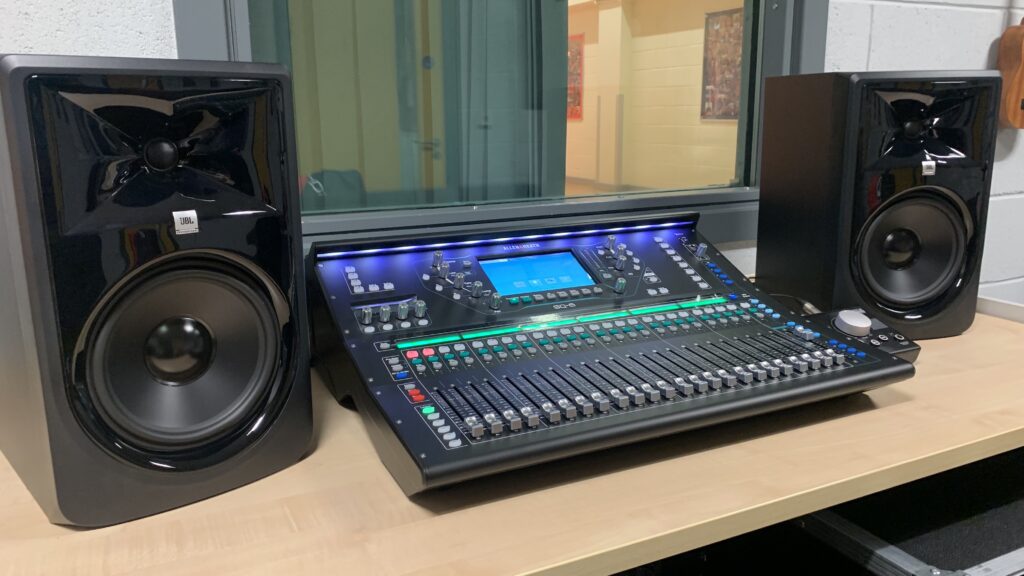 Additional products for the studio included a pair of JBL Pro loudspeakers for reference monitors, Audio-Technica monitor headphones, and ART headphone amplifiers for playing/recording. The PAS team also recommended acoustic treatment for the room in the shape of a Primacoustic London 10 Room Kit. Chris and Callum also worked on room connectivity as Chris explains:
"A small mobile rack with the headphone amp and a multi-core I/O was provided so that Ben didn't have to fiddle with the I/O on the back of the SQ-6 - this acts as a port saver and prevents any potential damage to the sound desk. Additionally, facility panels were placed in the studio and the adjacent hall with Ethernet ports provided to plug in separate Allen & Heath stage boxes, in case Ben wanted to use the hall for recording - with natural reverb - or run speakers into the hall for performances."
As far as the lighting element of the project went, Chris was more or less given free rein to meet the brief of maximum flexibility for the performance space. From a practical and environmental perspective, he felt strongly that the existing lights should be re-purposed and not disposed of, since they were in good working order, and subsequently incorporated them into his design: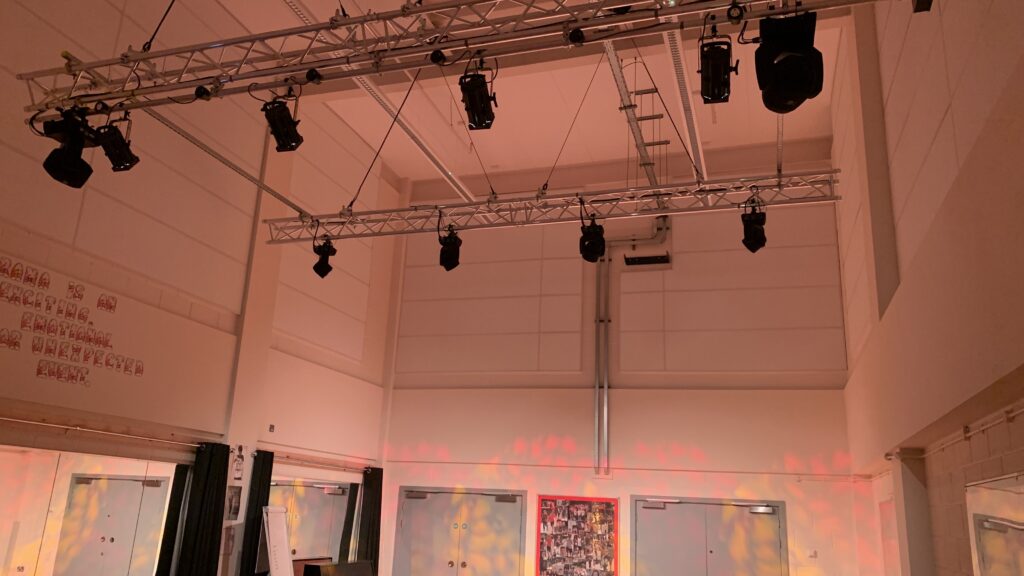 "The School wanted to switch its performance space around. The existing set up had many disadvantages, including the fact that any flown lighting adjustments had to be fully supervised by site managers due to safety regulations. To overcome the issues, we installed a new truss system to act as two lighting bars. Having repurposed the original lights, we specified Chauvet Rogue LED moving lights - four washes and two spots - which were added to the repurposed existing lights to allow the performance space the flexibility required for different productions. Providing this extra functionality meant replacing their existing lighting control, so we supplied an ETC ColorSource 20 console, which provides the School with an efficient, easy to use tool with which to approach intelligent lighting control. They can direct the lights, change colours and add gobos to give performances a really dynamic feel." 
PAS worked closely with Ben Fairbairn and the school from the outset, establishing a clear budget within which they were able to put together the best possible combination of products to meet Oastlers' requirements. Ben comments:
"This was the first time we'd worked with Pro Audio Systems and I have to say it was a great experience. Their team worked closely with myself and other staff in the school to ensure we were getting exactly what we required. This included face to face visits, emails and regular phone consultations. They are a very helpful team and remain in contact should we need assistance. Suffice to say we are very happy indeed with their work."